The Fabric Fox on 4th Aug 2020
Polar Magic by Figo Fabrics
Designed by Annie Chen (also known as Lemonni) for Figo Fabrics, the Polar Magic fabric collection invites you to a festive world where polar bears decorate their homes with Christmas trees, colourful ornaments and gift-wrapped presents. Polar Magic is a modern winter range in pale pink, deep coral, dark teal and cool mint.
Please click on a photo for more information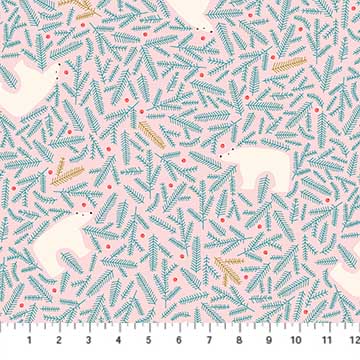 Bear Toss Pink Multi, 100% cotton fabric: cute polar bears snuggling amongst sprigs of holly
Bear Presents Pink & Bear Presents Teal, 100% cotton fabric: more cute polar bears delivering present, Christmas trees, candy canes and toys
Bear Bauble Beige & Bear Bauble Teal, 100% cotton fabric: Even more cute bear motifs but this time as colourful baubles and Christmas tree decorations
Party Coral & Party Turquoise, 100% cotton fabric: A great display of Christmas motifs such as crackers, holly leaves, sweets, candy canes, stars and Christmas tree decorations
Trees Beige & Trees Teal, 100% cotton fabric: A modern-retro take on the classic Christmas tree, complete with a glittering gold star on top
Ornaments Pink & Ornaments Coral, 100% cotton fabric: A modern geometric pattern of baubles, perfect for gift-wrapping your presents with, or as a table cloth/table runner
Letters Beige & Letters Mint, 100% cotton fabric: A Christmas song encapsulated in fabric; it's impossible not to sing along when you look at it
Pictured above are a few project ideas using Polar Magic fabric. Not only is there a tree skirt, a Christmas advent calendar and an adorable girl in a festive Oaklyn dress, the photo also shows off how you can even wrap your presents in Christmas fabric!
And here is a beautiful example of Polar Magic made into the Prairie Tracks quilt. Quilt pattern designed by Cotton + Joy.
For more Christmas fabric head on over to our Christmas Fabrics page.
If you like the style of Polar Magic you can find more fabric by Lemonni here.