The Fabric Fox on 18th Mar 2020
Firstly, we want to send our love and hope that everyone is staying safe and healthy in this worrying time. It is a time to stick together and support each other and stay positive.

Store Update

We are quite lucky that we (Kirsty and Lee) run The Fabric Fox from our home so we are able to keep the shop up and running for as long as we are able. We are currently both completely healthy and are doing everything we can to keep things that way! We drop off all of your orders at a local Royal Mail depot and just pass the sack through a window so we are able to drive straight there and back with minimal contact. We are hoping this will help us to be able to keep the shop open for as long as possible however we don't know what will happen going forward.
Obviously if one of us were to start showing symptoms then we would have to self isolate and stop posting orders. Also if Royal Mail are unable to continue posting due to staff shortages or there is a mandatory lock down then we will have to stop posting as well. We will keep you updated if there are any changes.

It is quite a worrying time for a lot of small businesses, especially when it is their main source of income. We understand that a lot of people are going through some difficult times but we are trying to keep positive and support each other through it.
Free Shipping
As a little token of appreciation for all of our supportive customers we are offering free UK 2nd class shipping on all orders until 30th April 2020. We want to help make it as easy and accessible for you to top up on your sewing supplies whilst you may be stuck at home.
How You Can Help Support Us
If you are able to, and would like to help support us, we would love it if you could place your orders and stock up on fabrics for future projects now, while we are still able to get out and post them. This would be a massive help to our business.

Over the next few months a lot of us may end up having to self isolate (or you may be doing so already). Sewing is a great activity that a lot of us enjoy and it can help take our mind off things and keep us busy. If you are stuck for ideas for a new project or would just like a little extra inspiration we have lots of ideas for things to make on our Pinterest.

We also have a range of patchwork and dressmaking patterns for sale on our website with simple instructions, these include a mixture of quick projects you can do in an afternoon and some that can keep you busy for the next few weeks!
Or maybe you have a project in mind and would like to top up your stash then we have lots of gorgeous fabrics to choose from, with lots more arriving over the next few weeks and months!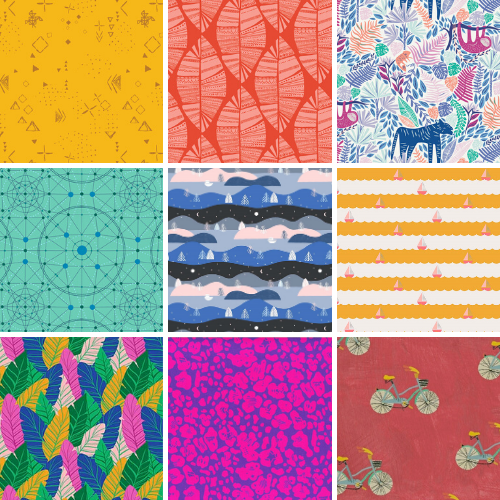 Gift Certificates
Did you know we also sell Gift Certificates? If you have a friend or family member with a birthday coming up (or maybe you need a last minute Mother's Day gift), a gift certificate could be a great present that can be emailed straight to them. Alternatively if you don't want it emailed to them yet, you can get it emailed to yourself and you can forward the code on to them on their birthday or print it out and pop it in a card for them.

Or maybe you want to give a gift to your future self by purchasing a gift certificate to spend on a treat later on. This would be another huge way you could help support our business.

If you are not in a position to make any purchases at the moment we completely understand. Another way you can help support us is by sharing our page on Facebook and Instagram. Or if you have been doing some sewing and have made something using our fabrics we would love to see your photos! Just tag us @thefabricfox or #fabricfoxes on Instagram or Facebook. We always get so excited to see what you have been busy making and it will be nice to share what we have all been up to while we can't get out and about so much.