The Fabric Fox on 18th Oct 2018
Our selection of patterns have grown quite significantly over the past couple of weeks. Here's a quick run-down of everything that's new!
SEW OVER IT
If you want a vintage-inspired wardrobe then the Sew Over It sewing patterns are perfect for you. The Ultimate Shift Dress is the simplest to make as it has been designed for beginners, and the Rosie Dress and the Vintage Shirt Dress are for more skilled sewers. As you can see from the front covers alone, all these patterns are extremely versatile with multiple options.
Please click on a pattern for more information
Ultimate Shift Dress Rosie Dress Vintage Shirt Dress
NINA LEE
All of Nina Lee's patterns have been inspired by the great city of London, which is why they have names such as Portobello and Kew (after Kew Gardens, of course). These patterns are for confident beginners, so if you're looking to step up your game these are the ones for you.
Please click on a pattern for more information
MADE BY RAE
Rae designed the popular Washi Dress which is also available in children's sizes. Called the Geranium, it comes in sizes 0 - 5 years and 6 - 12 years. It's the perfect opportunity to make a matching outfit with your daughter!
Please click on a pattern for more information
Washi Dress Geranium Sizes 0 - 5 Years Geranium Sizes 6 - 12 Years
APRIL RHODES
April Rhodes is one of the brilliant fabric designers at Art Gallery Fabrics but she's also known for her sewing patterns too. The Riding Peplum & Party Dress is a functional dress that can be worn all year round. It comes in two styles so make whichever one suits the occasion - or make both!
Click on the pattern for more information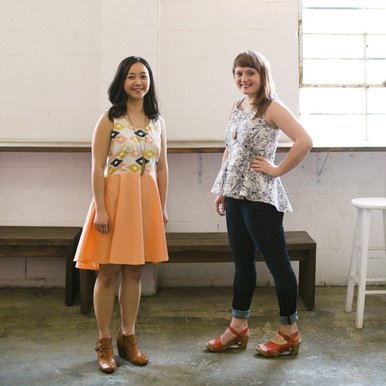 You can find all our available sewing patterns and kits here. If there are any patterns you think we should stock please let us know, we would be overjoyed to hear from you. If you've already made one of these show us on Instagram by using the hashtag #fabricfoxes