The Fabric Fox on 22nd Jul 2022
NEW FABRIC BY ART GALLERY FABRICS: SWEET AND SPOOKIER
Halloween Fabric designed by AGF Studio
The Sweet and Spookier Halloween fabric collection, designed by AGF Studio for Art Gallery Fabrics, encourages brave little boys and girls to go trick-or-treating this Hallows Eve. Join Peppermint the Witch and her squad of ghoulish friends on a spooky adventure to find scary skeletons, magic potions and haunted wardrobes.
Sweet and Spookier Quilting Cottons
We have 6 quilting cottons from the Sweet and Spookier collection, all available in OEKO-TEX Certified Standard 100 100% cotton fabric.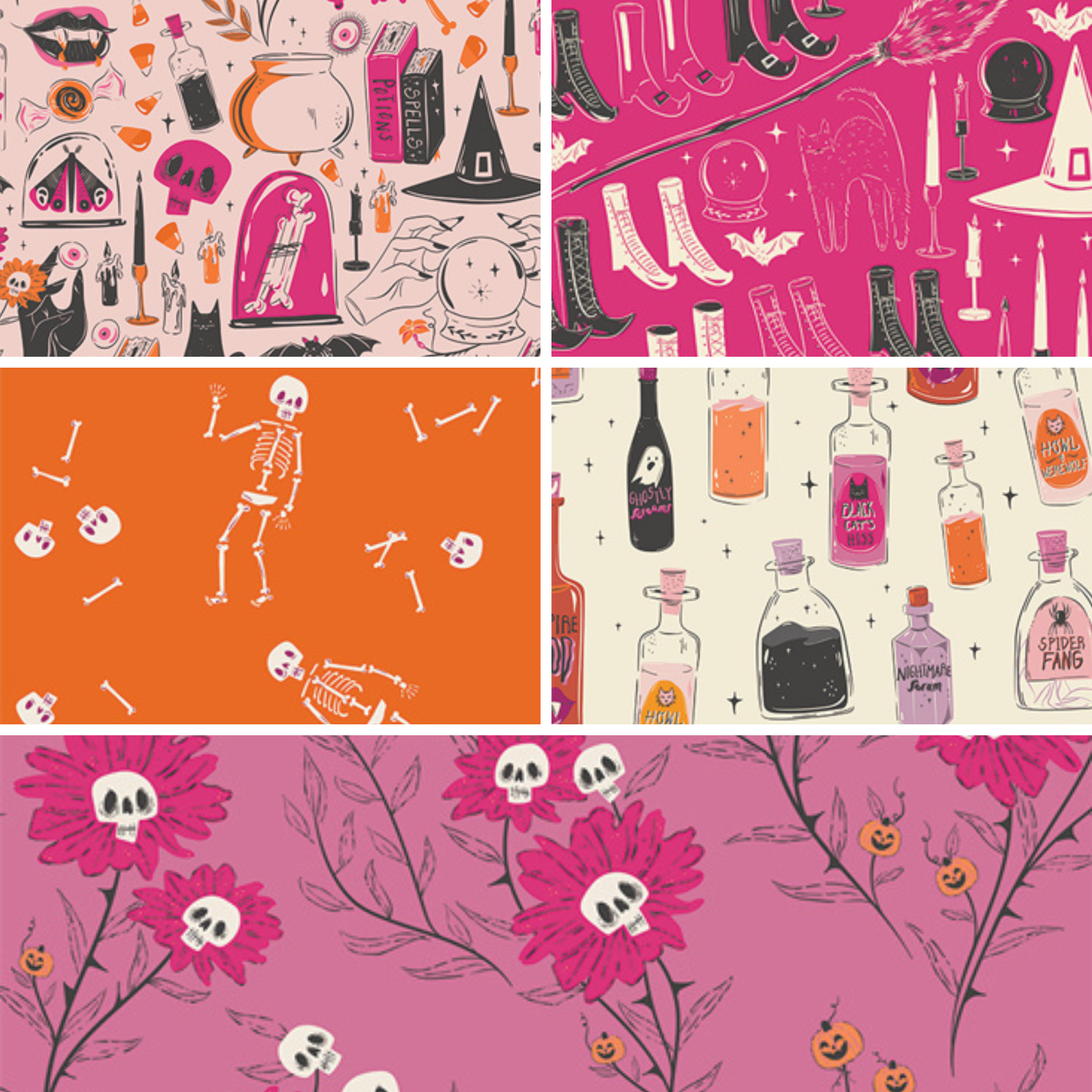 The Spooky Season Panel Print
Out of the 6 fabrics, 1 of them is this Spooky Season panel print. Measuring approx. 92cm x 112cm, it features ready-to-cut squares, bunting and Halloween motifs for decorating your crypt with this year.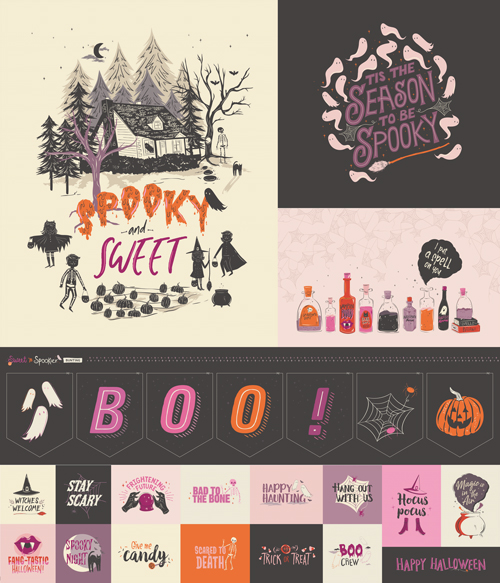 For reference, here is a photo of the panel to-scale. Hopefully this will give you a better approximation of the size of the print.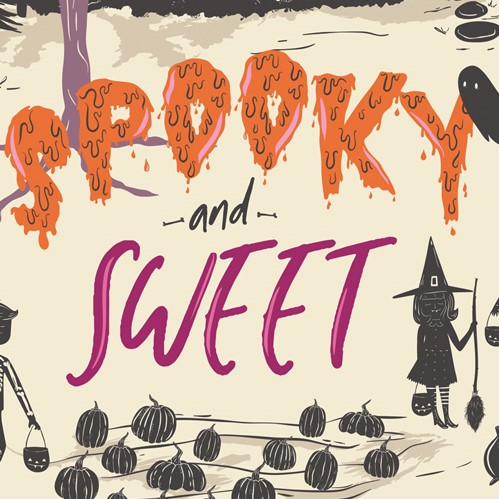 Sweet and Spookier Sewing Tutorials
Art Gallery Fabrics Halloween Masks FREE Pattern
Halloween masks are a key component of any Halloween tradition. Here are free instructions to make your own masquerade-inspired Halloween masks.
Art Gallery Fabrics Skully Placemats FREE Pattern
People (dead and alive) remember the little things, so don't forget to give your guests something to put their cocktail glasses and candy bowls down on. These fabric Skully coasters/placemats should do the trick! Here are the free instructions to make your own placemats.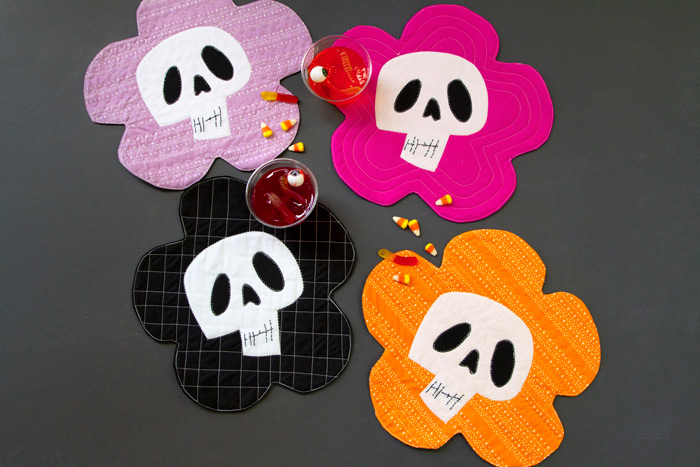 Bella's Web Block FREE Pattern
This is a fun way to incorporate spider webs into your Halloween decorations. Make your own Bella Web Block for free with Art Gallery Fabrics' free tutorial.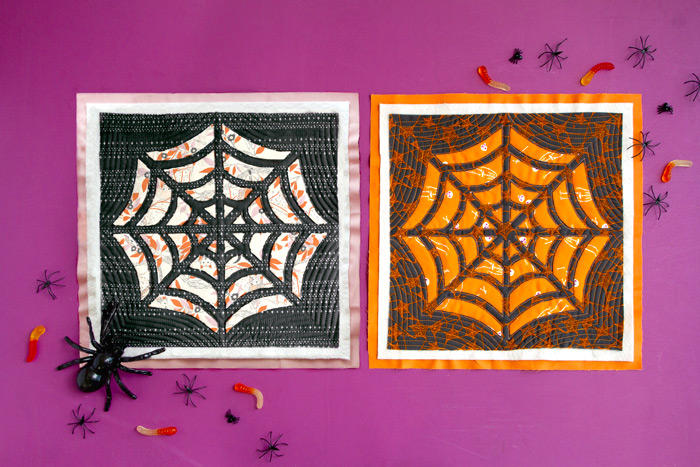 Patchy Pumpkin Farm Quilt Pattern by White Plains Quilts
The autumnal Patchy Pumpkin Farm Quilt by White Plains Quilts looks terrific using Sweet and Spookier fabrics.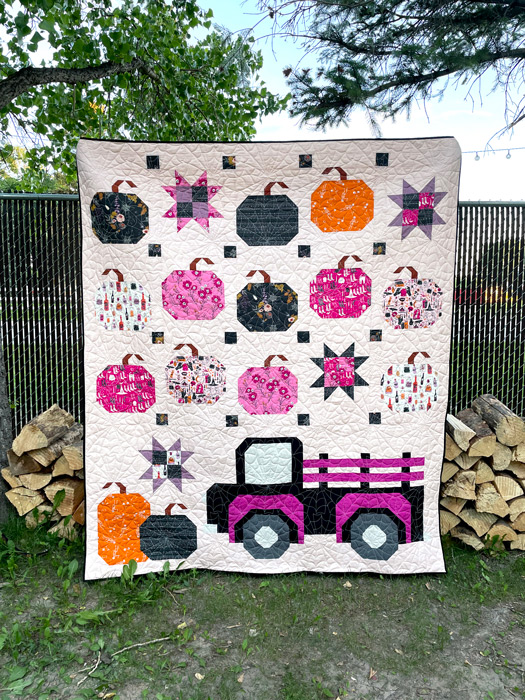 Olivia's Baskets by Knot and Thread Design
A witch needs to store her potions somewhere and there's no better storage solution than these Olivia Baskets by Knot and Thread Design.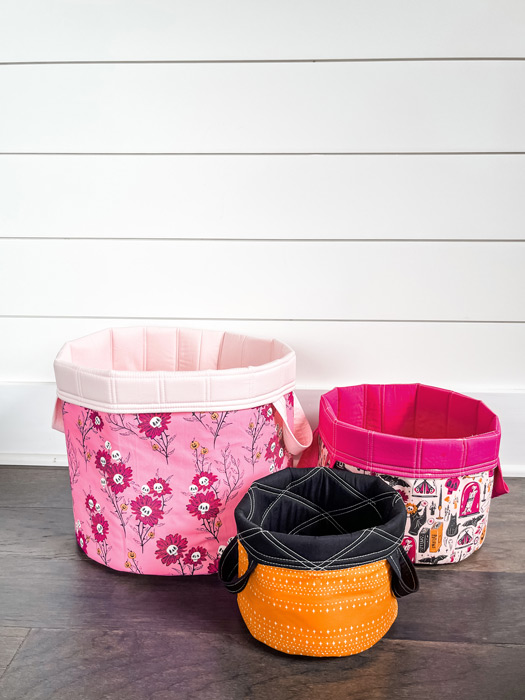 DIY Witch Hat by Hello Sewing
Hello Sewing has a spooktacular DIY Witch Hat tutorial so now you can make your costume truly magical.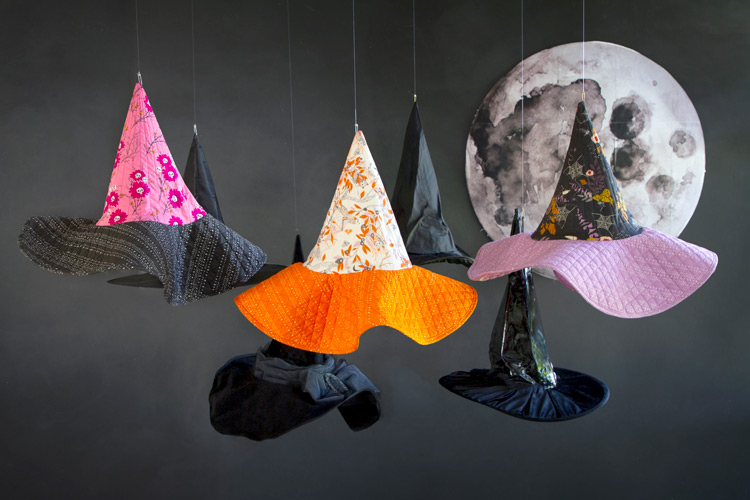 Story Pattern and Novella Pinafore by Project Run and Play
This young witch is wearing the top from Story pattern underneath the Novella pinafore, which has been made using the Witch's Wardrobe Berry fabric. Both dressmaking patterns are by Project Run and Play.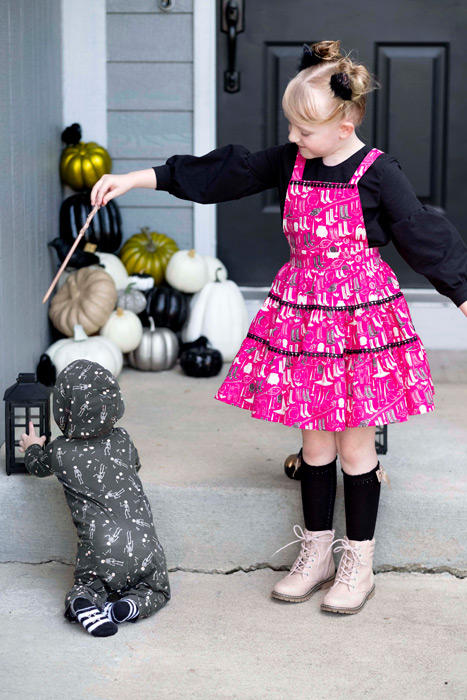 Penny Blouse by Jilly Atlanta
The mouth-watering Liquid Magic fabric has been used to make the Penny Blouse by Jilly Atlanta.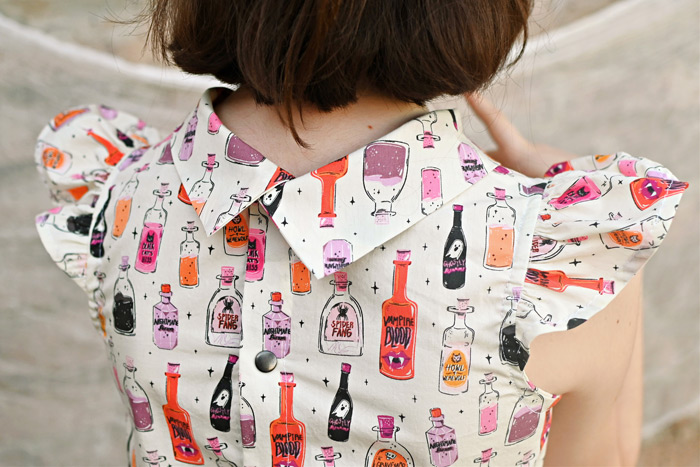 Misses' Vintage 1950s Wrap Dress by Simplicity
This absolutely stunning Halloween dress is the Vintage 1950s Wrap Dress by Simplicity The black, orange and pink from the Witching Hour fabric really brings the 1950s back from the dead!
Spooky Season Panel Sewing Projects
Art Gallery Fabrics Mug Rug Tutorial
Here is a sewing tutorial to make your own mug rugs.
As you can see, the Spooky Season panel has been used to make these Halloween-themed mug rugs. These are an excellent alternative to the Skully placemats mentioned above.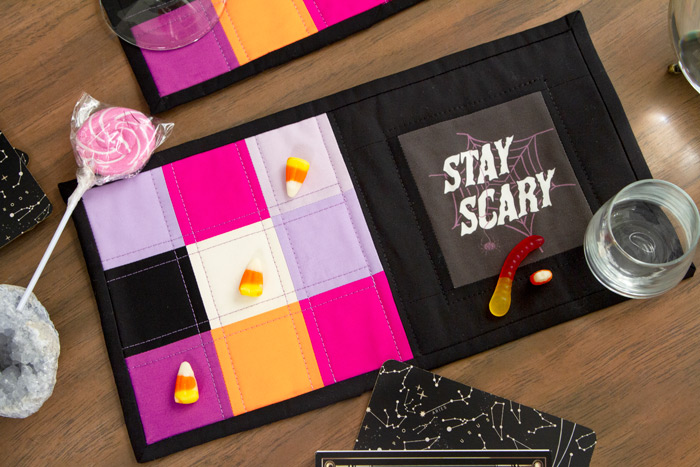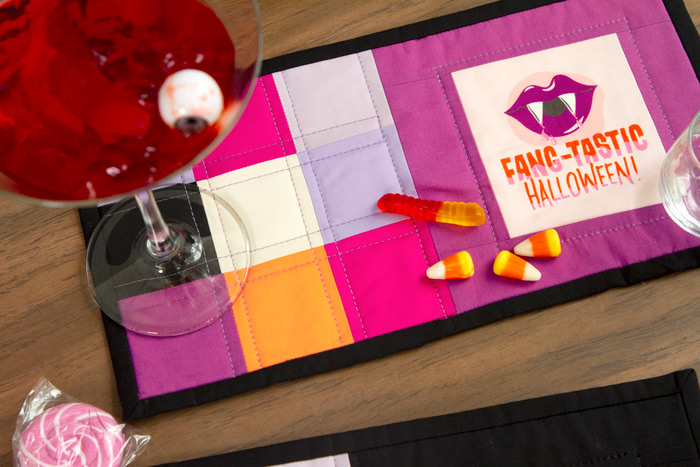 Tote Bag by Sweet Red Poppy
Every kid needs something to hold their candy in when trick-or-treating and the Tote Bag by Sweet Red Poppy can be made in 5 different sizes!
Halloween Cushions
Cushions are an ideal way to use the large prints included in the Spooky Season panel.